Durham Cathedral Library MS A.II.4
William of St Calais became bishop of Durham in 1080, replacing his murdered predecessor Walcher in an area that was politically unstable due to the fluid Anglo-Scottish border and the shifting allegiances of the Norman elite. At Durham Cathedral he decided to appeal to a historic vision of monastic Anglo-Saxon Northumbria and combine it with his own vocation as a Benedictine monk to refound the institution as a Benedictine monastery, replacing the incumbent clergy with monks from that order. In 1093 building work on what is now Durham Cathedral began.
The stone foundations were matched with spiritual ones, in the form of books. Bishop William's gift of nearly fifty books to his new foundation was headed by a large two volume bible, of which only the second volume survives today as DCL MS A.II.4.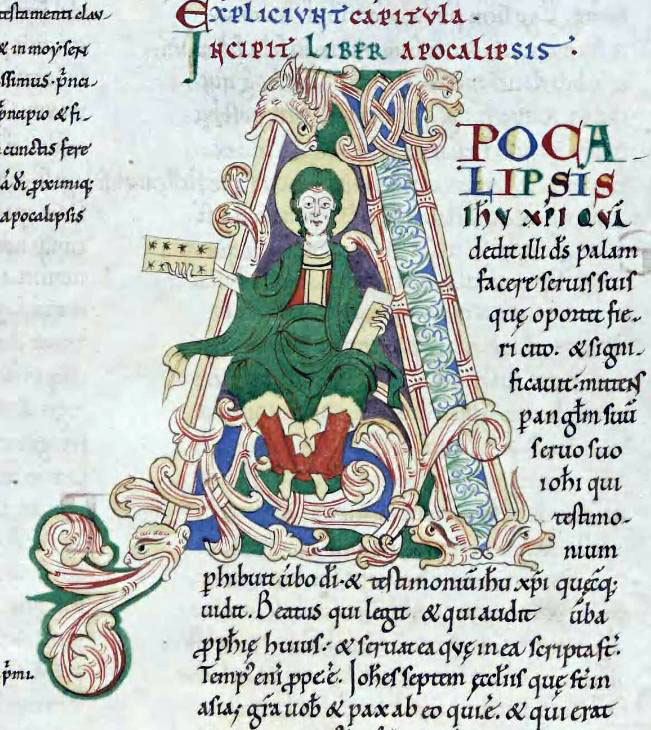 Initial A to the Book of Revelations
The project has been underway for a while now. Most of the work has been behind the scenes, getting on with digitising books and building the infrastructure that will enable all the work to endure and be of lasting value. We are planning to make this a permanent web presence which means adopting standards (and following them) and aiming for the long term solution. Of course, when you are working with a medieval library, there are plenty of people who are quick to point out the irony of that. The digital versions, they observe helpfully, will never last as long as the parchment originals. Just one of the challenges …
So this is the ephemeral end of the project, providing a means of updating on project progress, hearing from the team members what they are up to, and looking at what other people are doing in a similar vein.